EnerTek Hydroxy Generator (HHO)
The high-efficiency Hydroxy Generator is compact and easy to operate, and specifically safe because there is not an explosive hazard like LPG gas containers. Therefore, the Hydroxy gas is used as a necessary and useful flame for every thermal process.
Gas Mixed Combustion System
Hydroxy mixed combustion system is a new combustion technology. If HHO plants are installed with existing equipment (Industrial large-scale boilers, heating furnaces, melting furnaces etc.) that use fossil fuels (diesel, LNG, LPG etc). The hydroxy gas from EnerTek HHO generator is mixed and burned with fossil fuels. It makes the combustion acceleration to save the fuel.
Hydroxy mixed combustion system has an advantage that it can use the existing equipment as it is without modifying too much or making newly. The fuel savings rates are from 10% to 30% according to the quantity of hydroxy gas and CO2 is reduced as much as the saved fuel. Therefore, we can say it is a green revolution of low carbon.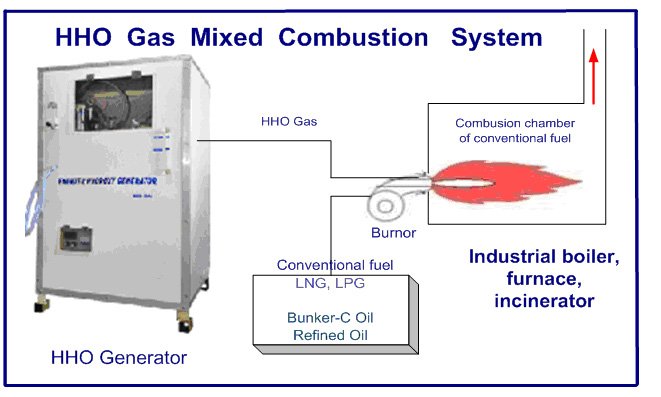 Water Energy incinerator
Hydroxy Water Energy Incinerator system is working in high-temperature pyrolysis melting incinerator by water energy system. It is composed and linked of Hydroxy Plant and Hydroxy Gas melting incinerator by the unique heat generation technology of Hydroxy gas.
This melting incineration technology is a new technology. A combustion chamber is prepared in the incinerator and it has the complete combustion condition of Hydroxy gas. Combustion heat of syngas and combustion heat of Hydroxy gas make synergy each other to create high temperature of 1400-1800˚C. It can melt everything and it doesn't produce any ash, the problem of existing incinerators.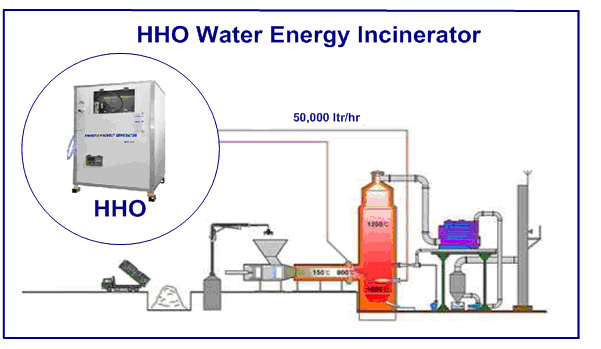 HHO Sizes & Technical Specifications
Application
Jewelry working
Soldering
Glass working
School, Laboratory
Brazing
Gas welding
Gas cutting
Heat treatment
Slab cutting for steel mill
Heavy Industry Process
Industrial Boiler
Industrial Heating furnace
Industrial Melting furnace
Waste melting incinerator
Mixed Combustion System